Water levels rise in Odisha's rivers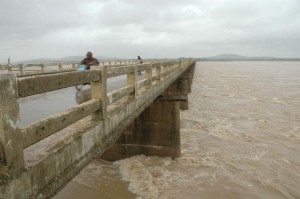 Water levels continued to rise in major rivers including Mahanadi following heavy rains in their catchment areas and release of surplus water from various reservoirs in Odisha on Sunday.
Collectors of all districts have been asked to remain alert as rainfall was likely to continue in different parts of the state for the next two days due to low pressure which might lead to a flood like situation, official sources said.
As water level continued to increase steadily in the Mahanadi, as many as 19 sluice gates were opened so far in Hirakud dam on the river located in Sambalpur district, Special Relief Commissioner (SRC) P.K. Mohapatra said.
The level touched 609.69 feet as against its capacity of 630 ft at Hirakud reservoir where inflow of water was recorded at 4,37,955 cusecs while outflow stood at 3,08,666 cusecs, a senior official said.
Despite rising water levels, there was no immediate threat of flood in major rivers like Brahmani and Baitarani which were flowing much below the danger marks, the SRC said.
Similarly, water levels were much below the danger marks in Subarnarekha and Budhabalang rivers.
However, due to heavy downpour in the catchment area and release of surplus water from Indravati project, Hati river was in spate in Kalahandi. Two feet high flood water was flowing over the bridge on the river near Junagarh, disrupting road communication, the sources said.
As more water was being released through 5 gates of Mangalpur barrage into Hati River, it was apprehended that the flood situation of Hati and Tel may be aggravated.
Heavy downpour in Thuamul Rampur, Jaipatna and Koksara has paralysed normal life as road communication to interior areas of the block has been disrupted, they said.