McNally Bharat bags order Rs 1.5 bn from Bhushan Power & Steel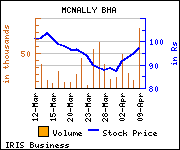 McNally Bharat Engineering Company announced Tuesday it has received an order worth Rs 1.5 billion from Bhushan Power & Steel, Rengali, Sambalpur, Orissa.
For supply of equipments (shop manufactured mechanical items) and technological structures, detail design, engineering (mechanical), erection and construction of civil, structural & mechanical work of the recovery coke oven plant & by product plant of Bhushan Power & Steel.
Shares of the company gained Rs 2.05, or 2.11%, to trade at Rs 99.05. The total volume of shares traded was 18,227 at the BSE (10.26 a.m., Tuesday).