VSS Medical College
Veer Surendra Sai Medical College (VSSMC) is a premier Government run Medical College & Hospital in the Indian state of Orissa. Established in 1959, it is one of the oldest institutes of Orissa for imparting highly specialized medical education in both the undergraduate and postgraduate levels. VSS, as it is popularly known, is recognized, regulated and monitored by the Medical Council of India (MCI) in charge of the medical education in India. Recently in 2009, this institution celebrated its Golden Jubilee.
Location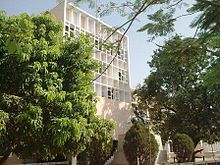 VSS Medical College is located in Burla, a small picturesque town on the banks of the mighty Mahanadi River in Sambalpur district of Western Orissa, only 15 km away from the City of Sambalpur. Burla is a laid back town in nature's lap. Known as the Education City, it also hosts the Sambalpur University and Veer Surendra Sai University of Technology, which are only a kilometer away on either side of VSS Medical College.
Located in close vicinity of the Hirakud Dam, world's longest earthen dam, Burla is famous for its scenic beauty, consisting of large splendid bodies of water with lush green hills forming the backdrop. During the monsoons, the beauty of the place increases manifold with an abundance of colors embellished in the landscape. The fresh, quiet environment provides just the perfect ambiance for study and research activities.
History
In 1958, to provide a solution to healthcare problems in western Orissa, a decision to set up a medical college, 2nd in state and 54th in the country at Burla, near Sambalpur city was taken by the then Chief Minister of Orissa Dr. Harekrushna Mahatab. Consequently, the Burla Medical College (BMC) came into existence in July, 1959 with 41 boys and 9 girls selected from SCB Medical College, Cuttack to become its first batch of students.
The College started to function in the present OCB building, under the guidance of Prof. Dr. Radhanath Mishra as its first principal. Initially, the MCI refused to recognize BMC, citing gross infrastructural inadequacy. So, a new sprawling campus was designed, complete with main college building, hospital building, hostels and staff quarters and construction began on 12th February, 1961. Upon completion of the work in 1966, the college was shifted to the new campus and it finally got MCI nod in 1967. In 1969,It was rechristened as Veer Surendra Sai Medical College in honor of the great freedom fighter & martyr, the lion of sambalpur , Veer Surendra Sai.