Tag Archives:
Jeypore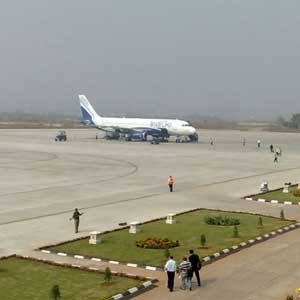 A regional airline has proposed to start flight service to small and industrial towns of Jharsuguda, Angul, Rourkela and Jeypore within Odisha.
"Air Odisha Aviation Pvt Ltd has expressed its interest to operate flights from Bhubaneswar to different parts of the state such as Jharsuguda, Angul, Rourkela and Jeypore from this month," Sharad Kumar, director Bhubaneswar Airport said.
Stating that the work for the Jharsuguda airport will begin from December this year, Kumar said it is likely to be completed within two years. Jharsuguda would be the second commercial airport in the state of Odisha, he said.
Go Air will be operating four daily flights – two flights to New Delhi and one each to Mumbai and Kolkata from the Biju Patnaik domestic airport from the October 26, Kumar said.
He also informed that the preparations are on for starting flights from Bhubaneswar to Bengaluru by another airline operator ATC Airways by February next year.
Presently, 32 flights to eight different destinations are operating from the airport here.
A new zonal office of the Board of Secondary Education (BSE), Odisha, was inaugurated by school and mass education minister Rabi Narayan Nanda at Jeypore on Sunday.
The office aims to decentralise the board's manifold activities and to provide doorstep services to teachers and students of Koraput, Nabarangpur, Malkangiri and Rayagada districts, said officials.
"A zonal office of the board at Jeypore was a long standing demand of the people of this area. Earlier, students from this tribal belt used to face problems in travelling to the board's zonal office at Berhampur for academic work, but now all their problems will be sorted out here," said Nanda.
According to board officials, the new office will have jurisdiction over 596 schools involving 23,364 students of the south Odisha districts.
"In future, Kalahandi district may be attached to Jeypore zone after due official formalities," said BSE Odisha secretary Ramakrishna Sahoo.
Locals, including academicians, welcomed the government's move of opening the office at Jeypore. "The new zonal office will prove very beneficial for students, especially tribals, who had to travel to the Berhampur board office, 300 km from here, for every little work," said Gopal Patnaik, an academician at Jeypore.
The BSE has other zonal offices at Bhubaneswar, Cuttack, Balasore, Baripada and Sambalpur in the state.