Freedom after 22 years, Dharua's family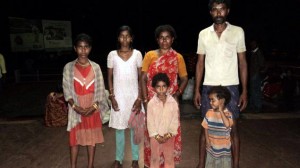 It took Chandra Dharua, a free man like anyone else in Independent India, 22 years to have a taste of real freedom.
Forty-five-year-old Dharua, a migrant labourer from Odisha, and his wife, who were in confinement in an Andhra Pradesh brick kiln, arrived at the Bolangir railway station, about 350 km from Bhubaneswar, on 29th august, Wednesday evening.
After being forced to work as bonded labourers, Dharua and his family members were rescued from the kiln in Medak district on Tuesday.
Dharua was just 23 in 1990 when he, along with his wife, had set out to Andhra Pradesh to earn a living by working in a brick manufacturing unit. The couple had hoped to return home within months. But the owner did not let them go. Whenever they attempted to flee, they were subjected to all kinds of torture. When Dharua boarded a train from Hyderabad along with his wife, three daughters and one son on Tuesday evening, he cried inconsolably as he had never imagined that he would return home one day, said Dayasagar Pradhan, an official of Aide-et-Action, an NGO that played a key role in their release.
"I had taken a debt of Rs. 2000 for working in the brick kiln 22 years ago. Initially I used to be paid Rs. 200 a week for food. After 22 years, the amount was raised to Rs. 500 a week. One can easily gauge the traumatic life we had all these years," Dharua told this correspondent over phone on his arrival at Bolangir.
The migrant labourer had only faint memories of his village, relatives and friends. "I don't know how my brothers look like now," an emotional Dharua said. He wondered whether his fellow villagers would recognise him or not. But Dharua said he would start life afresh in his native village.
"We had never come across such a painful story of migrants. Usually, a migrating labour family returns home after working for four to five months. Dharua's story is a severe form of bonded labour," said Umi Daniel, head of Aide-et-Action, who has been working on migration issues for years.
Mr. Daniel said about one lakh people from western Odisha districts migrate to work in the brick kilns of Andhra Pradesh, Tamil Nadu and Karnataka every year. In a drought year, the number increases by 50 per cent, he said.
Along with Dharua, seven other families who had been working continuously for three years in that kiln, were also rescued. Andhra Pradesh has handed over bonded labour certificates to these migrant families.