A colourful celebration of Sambalpuri folk culture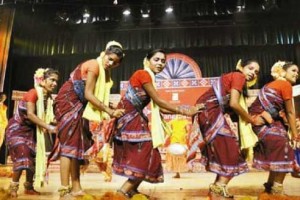 The concluding evening of the Rangabati Festival in Bhubaneswar saw a colourful celebration of Sambalpuri folk culture. Singer Jitendriya Haripal stole the show performing to "Rangabati".
That apart, many foot-tapping Samblpuri folk songs were also presented with instruments like dhol, nisan, mahuri, tasa, tamka and jhanj keeping the beat. Dancers from UKIA, a folk-dance academy from western Odisha, performed Sambalpuri dance ensembles like Karma, Parva, Dlkhai and Dhap. Mailajada, a dance form based on social customs of Western Odisha, was the concluding event of the evening.
"We had a good time watching the performances on Sambalpuri song and dance. Jitendriya Haripal's song, "Rangabati", was what I enjoyed the most," said Abinash Mohanty from the audience.