Naveen on Inauguration Spree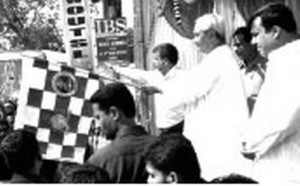 Chief Minister Naveen Patnaik went on a foundation stone laying and inauguration spree during his whirlwind tour of the district on Wednesday and flag off of City Bus Service in Sambalpur city.
Naveen addressed a public meeting in Muslim dominated  area of Women's College, Sambalpur with an eye to bring minority community to the BJD fold which would weaken the Congress vote bank further. He spoke on the steps initiated by his Government for development of the minorities.
Stating that there would be no shortage of fund for development of Western Odisha, Naveen announced that the Western Odisha Development Council (WODC) would be empowered further to remove regional imbalances. To drive home his seriousness, he spoke about contribution of the State Government in speedy completion of Balangir-Khurda railway line.
Launching a scathing attack on the Opposition political parties, the Chief Minister criticised them for blocking development of the State. Predicting that regional parties would play a major role in national politics, he hinted that Third Front would form next Government at the Centre.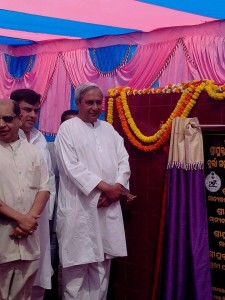 Naveen laid the foundation stone for doubling of road from NH 6 to Sambalpur University at Golgunda near Burla. He also laid foundation for hostel building of Sambalpur University, inaugurated its administrative building before laying the stone of drinking water project for Burla NAC.
He also inaugurated the Blood Bank building at VSS Medical at Burla and laid foundation stone for infrastructure extension of VSS Medical College. The Chief Minister laid foundation stone for second high level bridge over river Mahanadi, doubling of Ring Road along river Mahanadi, high capacity pumping station to prevent deluge during monsoon and river front development at Ayodhya Sarovar.
Among others, Finance Minister Prasanna Acharya, Sambalpur district BJD president Rohit Pujari, WODC Chairperson Padmini Sekhar Deo, Chairman of Sambalpur Development Authority Bijay Kumar Mohanty accompanied the Chief Minister.
Earlier, local MLA and leader of the BJP legislature party Jaynarayan Mishra, an invitee to different official programmes, was taken to preventive custody along with his supporters when they proceeded to attended the foundation lying ceremony of four projects in the town.