Naxals attack BSF convoy in Koraput, 4 personnel dead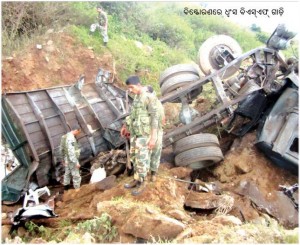 A group of heavily armed Naxals attacked a Border Security Force (BSF) convoy in Koraput district of Odisha killing four personnel and injuring three others.
The BSF personnel were killed when their van was blown up by the Naxals. The three personnel have been injured seriously and they have been taken to the hospital.
A convoy of 18 BSF personnel was on its way to Vishakapatanam from the base camp in Malkangiri district in Odisha on Tuesday morning when Naxals triggered a land mine blast near Patnagi in Koraput district.
Cross firing between the BSF troopers and the Naxals took place for almost an hour before reinforcement reached the spot. Massive combing operation is going on in the highly Naxal-infested belt of Odisha.
Three days back the top regional Naxal leader Madhav was killed in a police encounter and four of his supporters surrendered. Top police sources say that this attack is a mark of desperation by the Naxals who want to prove their presence in the region after immense pressure on them by the Oidsha police and paramilitary forces for past several months