Official apathy delays project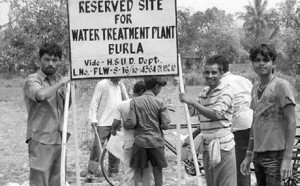 There is neither any dearth of funds nor land. Yet, the six million litres per day (MLD) drinking water project for Burla NAC which was declared way back in 2006 is awaiting execution.
Sources said negligence by the Public Health and Engineering Department (PHED) has delayed the project even though coal major Mahanadi Coalfields Limited (MCL) already released first phase of funds required to take up the work. The project which includes a water treatment plant is estimated at `8.62 crore.
MCL was approached to fund the project under its corporate social responsibility by the local administration and the management accepted it. Land for the project measuring 7.62 acre was also identified to which, Government too gave its nod. MCL has so far released `3.5 crore for the first phase work, but there has been no headway in the project even after seven years. Although tenders were floated for the work, they have not been finalised for reasons best known to the PHED.
At present, 4.5 MLD water is supplied to the Burla NAC. Owing to water scarcity, road picketing for drinking water is a routine affair and people wandering on streets for water with empty pots a common sight. With the town growing by leaps and bounds every year, the project was envisaged by the local administration.
Though Sub-Divisional Officer of PHED, Burla, Bhagyadhara Sahu did not speak about reasons behind the delay in the water project, he said work order would be issued soon.