Two businessmen injured in hafta wasuli at Golebazar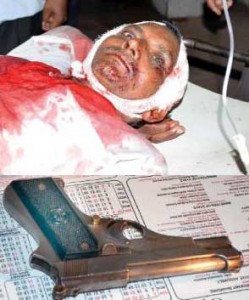 Two persons were injured, including one critically, when some miscreants shot at a businessman on Friday in Gole Bazar area near the Town police station.
Sources said the miscreants on Thursday had demanded extortion money from Sitaram Sahu, a rice vendor, but the latter had refused. On the contrary, Sahu, accompanied by fellow vendors and his son, had lodged an FIR against the miscreants on Thursday. Irked over this, the miscreants on Friday evening fired at Sahu. Soon, Sahu was rushed to the district headquarters hospital, where after preliminary treatment he was shifted to the VSS Medical College Hospital at Burla. Sahu received severe head injury, while another man standing nearby received minor injury in the firing.
"We have seized a pistol from the area. We will arrest them miscreants soon," said ASP DK Deo. Protesting the firing, businessmen of the area held a road blockade in Gole Bazar demanding their safety and met the SP for action against the miscreants.