State Government cautions people on heat wave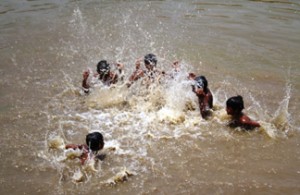 The Odisha government cautioned public to avoid venturing out of their houses between 11 am to 3 pm due to intense heat wave as the death toll in sunstroke mounted to 19, official sources said.
Heat wave condition may prevail in some parts of interior Odisha during the next 24 hours, a Met office release said forcing the state government to issue the advisory to the public.
While Sambalpur recorded 46.7 degree Celsius during the day, it was followed by Hirakud and Sonepur (46.2 each), Jharsuguda (46),Titlagarh (45.8), Balangir (45.5) and Sundargarh (45).
Many western and southern districts also experienced temperature above 42 dc. The state capital of Bhubaneswar also sizzled at 40 dc with 89 per cent of relative humidity, they said.
Of the total 65 complaints of sunstroke deaths so far, 19 cases have been confirmed while report on 29 other allegations are awaited, said revenue and disaster management minister Surya Narayan Patro.
While tribal dominated districts of Sundargarh and Mayurbhanj reported four sunstroke deaths each, three persons succumbed in coastal Balasore district, the minister said adding that one died in each eight other districts.
With the interior districts experiencing intense heat wave spell where mercury hovers between 44 to 47 dc and above 40 dc in coastal districts, the state government has advised people to remain indoors during peak hours unless they have urgent works.
As schools and colleges remained closed due to summer vacation, the government had also rescheduled working hours for MGNREGA and other government works.
Besides, bus operators are also told to avoid plying on road during peak hours, he said.