Relocation of 2nd Bridge Sparks off Protest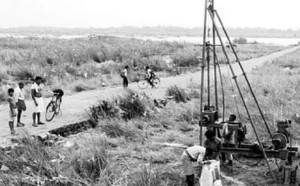 The recommendation of the district administration to the State Government to relocate proposed second high level bridge over river Mahanadi connecting Sadak Ghat at Badbazar along Ring Road in Sambalpur town with Mundoghat on the other side of the river is snowballing into a major controversy.
Villagers of Chaunrpur, Baijamunda, Kalamati and Aamsada Katapali gram panchayats besides locals of Sambalpur town under the banner of Bruhatar Sambalpur Mahanagar Nigam Committee (BSMNC) staged a demonstration in front of the office of Revenue Divisional Commissioner (Northern Division) here opposing relocation of the proposed bridge.
They also submitted a memorandum addressed to the Chief Minister through the RDC. The members of BSMNC questioned the motive behind the demand to shift the location of the bridge even though District Collector Balwant Singh had already performed puja and soil testing at the original spot.
The tender floated for construction of the bridge was also cancelled after recommendation was made by the district administration for relocation of the proposed bridge, they added.
They alleged that some vested interest is working at the behest of the land mafia who have bought large tracts of land and wanted relocation of the bridge so that the price of the land jacks up. They have also threatened to intensify stir if any attempt is made to relocate the proposed bridge.
The length of proposed bridge connecting Sadak Ghat along Ring Road here with Munodghat is about 1.5 km whereas the new location which has been recommended by the district administration to connect Nelson Mandela Chhak in Sambalpur town with Chaunrpur on the other side of the river is about 2 km.
Besides, no land acquisition will be required for construction of approach road as PWD Road exists from Mundoghat to Gosala Chhak to connect National Highway 6 and a larger number of people would benefit if the bridge is constructed between Sadak Ghat and Mundoghat.
After steps were initiated for construction of the bridge between Sadak Ghat and Mundogaht, a group of people from Sambalpur town started opposing the selection of Sadak Ghat for the approach of the bridge from Sambalpur town end and demanded that it be shifted to Nelson Mandela Chhak.
When attention of Collector Balwant Singh was drawn over the issue, he said earlier there was proposal for the bridge between Sadak Ghat and Mundoghat.
He said he has recommended for change in location to Nelson Mandela Chhak after study and consultation as it will cater to a greater number of the people. However, the State Government will take decision in this regard, he added.