Forest staff's strike affect the safety of deer in Deer park
The State wide strike of forest staff from February 22 has badly affected the safety of the animals in the Wild Animal Conservation Centre (formerly known as Deer Park) here. The temporary staff members are now taking care of the animals at the centre which has already achieved the status of a small zoo and attracts thousands of tourists and visitors every day.
There are a total of 268 species, besides over 200 rescued species in the centre now. However, because of the ongoing strike of the forest personnel, the authorities here are finding it tough to handle the situation.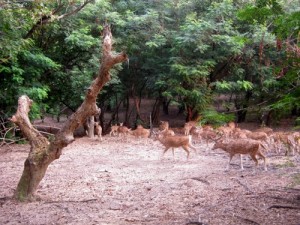 There are species like spotted deer, four horned antelope, barking deer, leopard, sloth bear, monkey, rattle, civet cat, python, peacock, parakeet, moorhen, gray partridge and spotted dove in the conservation centre, apart from a good number of exotic birds.
"The inflow of the visitors have also increased manifold these days. And with the inadequate number of staff now, it has become a matter of concern for the authority to maintain the safety and security of the visitors and animals," said an official of the centre.
Centre's ranger AK Parida admitted that the ongoing strike had badly affected the day to day affairs of the wildlife unit here.  "As two foresters and three forest guards have stopped coming here after the strike, the animal conservation centre is now being managed with only 14 daily wage staff members. The entire works of the centre, including managing the visitors, are done by only 14 persons," said Parida.
"The animals require a lot of care for which adequate staff members are required. We are facing difficulties because of the present strike. Despite the current problem, we are trying to manage the situation with existing daily wage workers," added Parida